Honest, Dependable Transmission Service
Transmission service is essentially part of a routine maintenance that is often overlooked or postponed for many reasons, life is busy and there are certainly other things to occupy our time and budget. One of the more common reasons for delaying or avoiding transmission service is cost. A typical full transmission service with flush and filter can seem expensive to some people and if the transmission seems to be performing well, it's easy to remove it from the "to do" list.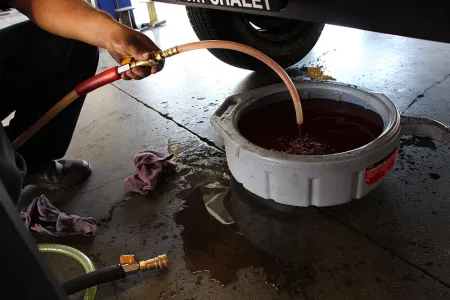 The problem with deciding against a transmission service is you raise your chances of transmission failure significantly. Like other automotive fluids, transmission fluid deteriorates over time. Frequent stop-and-go city driving, hauling heavy loads, and trailer towing can and will accelerate transmission fluid deterioration. Those types of driving conditions raise the operating temperature of the transmission, and heat can be devastating on the transmission and the fluid.
Transmission fluid is more than just a lubricant, it is also pressurized to apply clutch components as well as cool internal rotating parts. If you find yourself doing a lot of driving under high-stress conditions, it's a good idea to have our team at DMC Transmissions check the transmission level and condition frequently.
Transmission fluid often is red but can come in other colors, and as it deteriorates it tends to turn darker. It may also acquire a burned odor that could indicate a routine fluid change, or transmission service, is necessary, or that the transmission is developing mechanical problems. Another indication a fluid change is required is dirt or other debris in the fluid.
At DMC Transmissions, we are one of the few transmission service centers in the country that perform a complete and comprehensive 'Pan Off' transmission service.
Today's transmissions are more complex and sophisticated than ever before with greater efficiency than at any time in history which is why it makes sense to properly care for, and maintain them.
Come on in to DMC Transmissions and let us show you why we are a leader in our industry. With more than 36 years of transmission experience, we understand the needs of your vehicles transmission as well or better than anyone, come on in to DMC Transmissions and, Experience the Difference…
Transmission Service & Repair
Clutch Service & Repair
Differential Service & Repair
Drivetrain Service & Repair
Classics, Customs, Hot Rods
Brake and Suspension Repair
Brake Repair
Suspension and Steering
Auto Electrical System
Auto Engine Repair
Battery, Charging and Starting Systems
Cooling Systems
Emission System
Fuel System
Lighting & Wipers
Auto Filters / Fluids
Auto Belts & Hoses
Automatic Transmission Rebuilders Association Member

We are proud to be affiliated with the non-profit organization known as the Automatic Transmission Rebuilder Association (ATRA). Our owner, Donny Caccamise, serves as Director of Region 1 (California, Hawaii, and Nevada). As an ATRA member our shop adheres to the service and repair definitions which are a part of the ATRA bylaws and code of ethics.
ATRA Golden Rule Warranty
DMC Transmissions values our Ventura transmission shop's ability to offer our customers the ATRA Golden Rule Warranty at our transmission shop in Ventura. The ATRA Golden Rule Warranty is a warranty plan that is honored by ATRA automatic transmission shops across the United States and Canada. By selecting our ATRA Ventura area transmission shop for the repair of your automatic transmission, you can rest assured that the work done by our transmission specialists is covered under this national warranty.